The 10 Best Voice Actors Of All Time
6 min read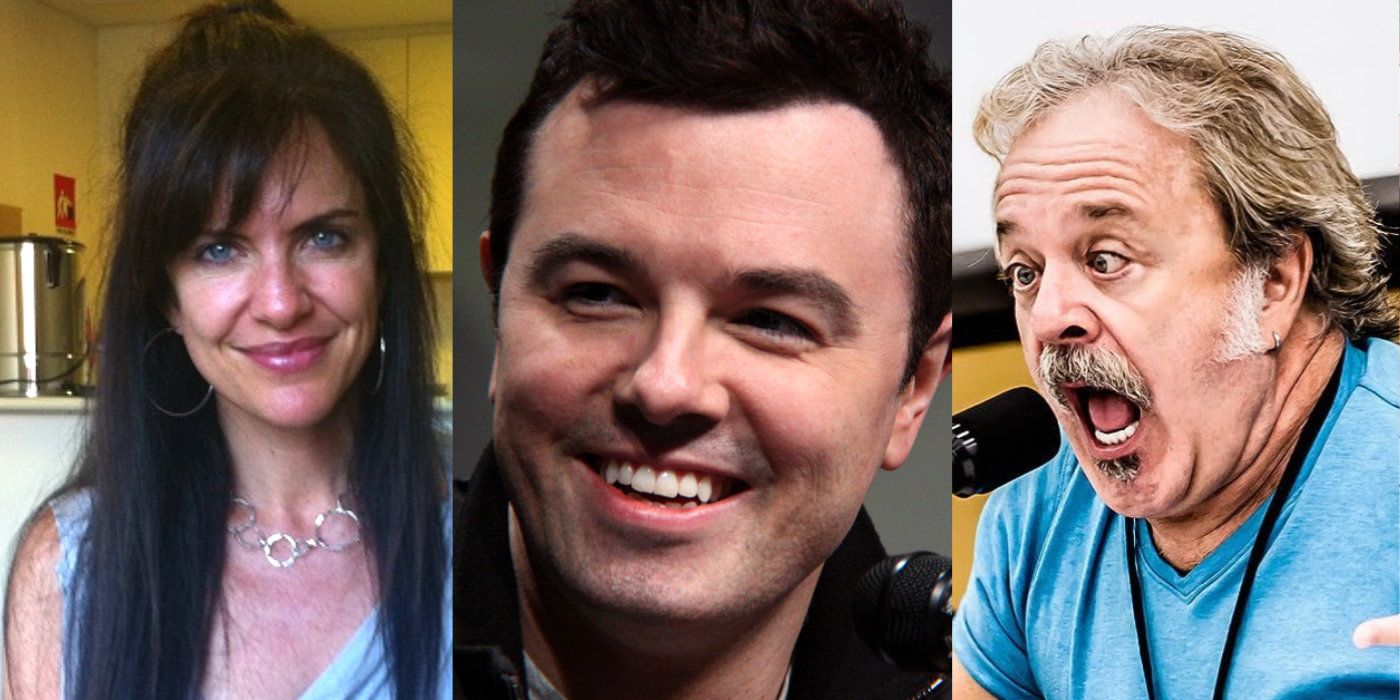 Voice actors bring animated characters to life in a way that just isn't possible in front of a camera. Some say it's easier, while others say it's far more challenging to pour that much emotion into a single delivery channel. Indeed, with no facial expressions to help guide the audience, voice actors must project a believable performance that matches what's happening on screen.
RELATED: 10 Animated Characters Voiced By MCU Actors
Thankfully, we're blessed with a bevy of incredibly talented and experienced voice actors that have made entire careers out of their vocal cords. Here are the best voice actors of all time, based not just on how many roles they've accumulated through the years, but on the quality and uniqueness of their deliveries.
10

Tress MacNeille (Voltron, Alvin & The Chipmunks, The Simpsons)
Tress has been going strong in the voice acting world since the early 80s, and she's made a brilliant career out of it. She started in franchises like Ri¢hie Ri¢h and My Little Pony, before moving onto Challenge of the GoBots, Voltron, Sectaurs, and Alvin & The Chipmunks. Oh, and she's also the lady responsible for the "dink!" voices in the classic Mel Brooks spoof SpaceBalls.
She's kept very busy through the last 3 decades with work on Mighty Max, The Land Before Time, Superman, The Tick, and Batman Beyond. She's also played the hilarious Agnes Skinner on The Simpsons since 1990, a role she clings onto till this very day.
9

Tara Strong (Metal Gear Solid, King Of The Hill, Suicide Squad)
Tara has lent her voice to so many properties over the years that it's hard to keep up. She's a giant in the voice acting world, having worked on franchises including Batman, Star Trek, Rugrats, The PowerPuff Girls, and King of the Hill. She's also ventured into the video game voice acting realm with roles in titles like Ninja Gaiden, Xenosaga, and Spyro.
Recently, Strong lent her voice to Metal Gear Solid V, Ultimate Spider-Man, Samurai Jack, Suicide Squad, and My Little Pony. That's a huge career, built on the back of her acting debut on the classic 1980s children's cartoon My Pet Monster, and she deserves her accolades.
8

Jim Cummings (Winnie The Pooh, Spider-Man, Voltron)
Not many know his name, but they've certainly heard his voice over the years. Jim Cummings has lent his voice to over 400 films, which puts him right up there some of the greats in the voice acting pantheon. He's done the voice for such properties as Aladdin, Shrek, and Hercules, and that's just for starters.
Cummings' true claim to fame is his voicing of the timeless Winnie the Pooh and Tigger, two of the most beloved children's characters of all time. That's a tough act to follow, but Cummings is still at it. Heaven help the next voice actor who has to fill those big shoes.
7

Jennifer Hale (Mass Effect, Metroid Prime, Cowboy Bebop)
Few female voice actors have the sheer iconography and pedigree that Jennifer Hale has enjoyed. She's truly in a class all her own, having voiced an innumerable amount of characters over the years that made their respective franchises major hits. She cut her teeth as a voice actor in classic video games like Quest For Glory IV, before moving into TV and movies.
RELATED: 10 CGI Characters You Never Knew Were Voiced By Famous Actors
Now, Hale has toes dipped in all three. She's voiced multiple Star Wars characters while bouncing back and forth between properties like Cowboy Bebop, Justice League, and Metroid Prime. She's best known for having voiced the female version of Commander Shepard in BioWare's runaway smash hit Mass Effect trilogy.
6

Mark Hamill (Batman: The Animated Series, The Dark Crystal: Age Of Resistance, Spider-Man: The Animated Series)
Mark Hamill kickstarted his acting career by appearing in General Hospital, The Bill Cosby Show, and Night Gallery, before scoring one of the largest and most iconic roles of all time – Luke Skywalker. Hamill has since been permanently tied to the Star Wars franchise (often begrudgingly), but he also took his newfound fame as an opportunity to open new doors.
Hamill became a voice actor and got his big break in the classic animated Batman TV series that debuted in 1992. He's voiced the Joker multiple times, even reaching beyond the animated series into the Batman: Arkham series of games, as well as providing voices for Netflix's Dark Crystal: Age of Resistance, Spider-Man: The Animated Series, and American Dad!.
5

Seth MacFarlane (Family Guy, American Dad!, Robot Chicken)
In many ways, Seth MacFarlane is a comedic prodigy. He's as juvenile and crass as he is distinguished and knowledgeable, and it's a killer combination that has made Family Guy such a potent competitor (and friendly rival) to The Simpsons. MacFarlane managed to take his love of Broadway musical numbers and mixed it with boundary-pushing comedy that has garnered plenty of blowback throughout the years.
He's also voiced several characters in Family Guy, while simultaneously branching off into other properties like American Dad!, Robot Chicken, and the Hollywood comedy franchise Ted. Most notably, MacFarlane created the sleeper hit The Orville, a nod to Star Trek: The Next Generation that has garnered more positive fan reaction from Trekkers than the franchise's controversial and divisive follow-up, Star Trek: Discovery.
4

Dan Castellaneta (The Simpsons, Futurama, Rugrats)
Better known as the iconic voice of dunderhead dad Homer Simpson in the long-running Simpsons animated sitcom, Dan Castellaneta continues to voice the character 34 years after the showed debuted. That's an impressive run and has turned Castellaneta into one of the most famous voice actors of all time.
He's also divided his time between voice acting and in-person roles in big films such as The Pursuit of Happyness, Stargate SG-1, Frasier, and Everybody Loves Raymond. The curse of being attached to the Homer Simpson role, however, is permanent, and unbreakable.
3

Peter Cullen (Predator, The Transformers, G.I. Joe)
Transformers fans know Peter Cullen best as the timeless, one-and-only voice of Autobot leader Optimus Prime, a character he began voicing in the 1980s. Since that time, Cullen has capitalized on the character's success multiple times, and he also voiced many other characters from the show, as well.
He's far from a one-trick pony, however. Cullen got started on the popular Smothers Brothers Comedy Hour, before venturing into a plethora of franchises such as G.I. Joe, Gremlins, Voltron, and BraveStarr, to name a few. He's also the guy responsible for all those creepy noises and ticks made by the titular alien creature in the Arnold Schwarzenegger sci-fi classic Predator, which is one of the coolest movies in history.
2

Frank Welker (The Transformers, Scooby-Doo, Inspector Gadget)
Frank's list of voice acting credits requires a pair of military-grade binoculars to see. He has lent his voice to just about every property imaginable, but his career really started to take off during the 1970s and 80s. He first made a name for himself as the voice of Fred Jones in the classic Scooby-Doo cartoons, then moved onto such hits as Fred Flintstone and Friends, The Fantastic Four, and Casper and the Angels.
RELATED: 10 Actors You Didn't Know Do Voice Work
Welker re-energized his already hot career in the 1980s with a string of major voice roles. He voiced Doctor Claw in Inspector Gadget, as well as Megatron and a number of Decepticon characters in the G1 Transformers cartoon series. Most recently, Frank began voicing Fred Jones again in the Scooby-Doo and Guess Who? series.
1

Mel Blanc (Looney Tunes, Buck Rogers, Gilligan's Island)
The most famous voice actor didn't gain the title "The Man of a Thousand Voices" by accident. Rather, he helped pave the way for the future of the voice-acting profession by kicking the door open for a versatile array of talent. Though the number is a bit exaggerated, Blanc did conjure over 400 character voices from his imagination over the course of his career.
Fans know him best as the classic voice of Bugs Bunny, but he also lent his talents to Tom & Jerry, Gilligan's Island, and Buck Rogers in the 25th Century. Believe it or not, that's a small grain of sand in the vast beach that made up Blanc's long and storied career. There will never be another like him.
NEXT: 10 Disney Actors Who Voiced More Than One Character

Next
How Old Were The Olsen Twins When They Started Full House? & 9 Other Questions About Their Acting Careers, Answered

About The Author