Revelation Cast & Character Guide
9 min read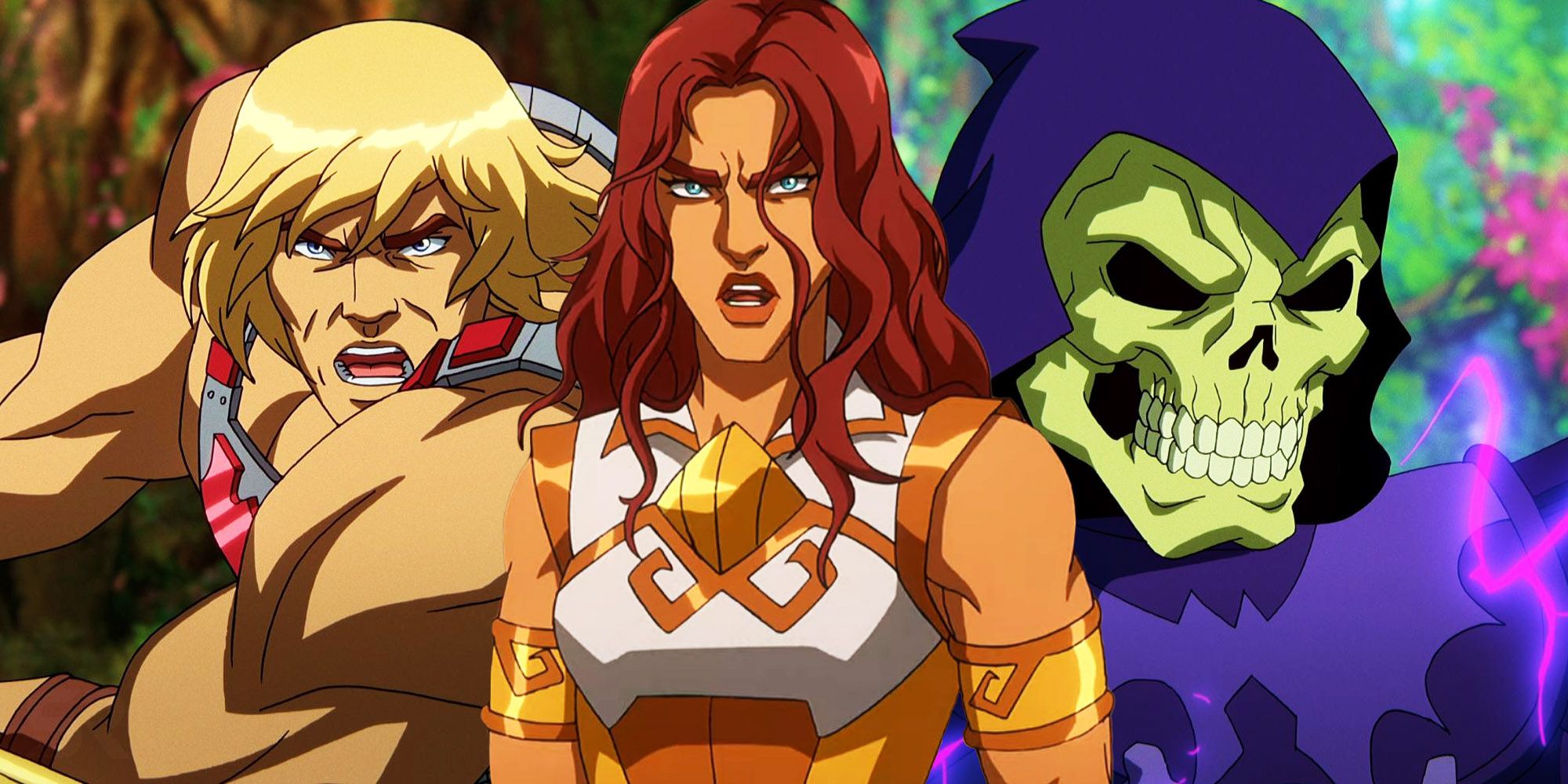 Netflix's Masters of the Universe: Revelation cast boasts an impressive ensemble, but what actors are lending their voices to which roles? The original Masters of the Universe action figure line had one of the most successful marketing drives of the 1980s and its success was largely due to the popular animated series that promoted the toys. The world of Eternia was also one of the most unique settings in children's television, mixing elements of science-fiction and sword-and-sorcery.
Filmmaker Kevin Smith oversaw the development of the new Masters of the Universe: Revelation series, intending to make a show set in the same reality as the original He-Man cartoons. Describing Revelation as a sequel rather than a reboot, Smith says the new show will pick up where the original series ended, with the warrior He-Man still locked in battle with the sinister sorcerer Skeletor, defending the people of Eternia and the secrets of Castle Grayskull. However, Smith teased that the new series would also see an increased role for Teela; a warrior woman and ally of He-Man, who is said to have her own heroic destiny to fulfill.
Related: Every New Show Releasing On Netflix In 2021
The Masters of the Universe: Revelation cast shows a great deal of variety, with a number of fantasy television veterans and experienced voice actors filling the key roles. Smith also cast some of his friends who have appeared in his live-action films in small roles. All of them are talented performers and the new series promises to be something special given the vast array of talent on display.
Chris Wood as Prince Adam/He-Man
Prince Adam is heir to the throne of Eternos and, in secret, the current champion of Castle Grayskull, He-Man. Blessed with fabulous powers that transform him into the most powerful man in the universe, he is a paragon of virtue and Eternia's best hope against the various evils that threaten it. He is played by Chris Wood, who is perhaps best known for playing Mon-El on Supergirl.
Sarah Michelle Gellar as Teela
The Captain of Eternos' Royal Guard, Teela is widely recognized as the greatest warrior among Eternia's heroes. As the series opens, she has been further honored with a promotion to the position of Man-At-Arms, further following in the footsteps of her adoptive father, Duncan. The role of Teela required an actress with some experience playing a warrior woman with a great destiny before her and the revival series found its perfect Teela in Sarah Michelle Gellar, who is best known for starring as Buffy in Buffy the Vampire Slayer as well as several films from the 1990s and early 2000s.
Stephen Root as Cringer/Battle Cat
Described ironically by Prince Adam as his "fearless friend," the talking tiger Cringer is a good-hearted but cowardly creature. He's quite another animal when Prince Adam transforms into He-Man, with the magical powers of Castle Grayskull likewise changing Cringer into the fearsome Battle Cat. Cringer and Battle Cat are both voiced by veteran voice actor Stephen Root, who is famous for playing a number of comically soft-spoken characters, such as Milton in Office Space and Bill Dauterive in King of the Hill.
Related: Masters of the Universe: Revelation Can Fix He-Man's Biggest Skeletor Problem
Griffin Newman as Orko
The Jester of Eternos' Royal Court, Orko originally came from the extradimensional world of Trolla. Orko was a powerful wizard in his home dimension, but the differing physics of Eternia make Orko's magic unreliable. Despite this, he is a constant companion to Prince Adam and one of the few privy to his secret life as He-Man. Orko is voiced by Griffin Newman, who is perhaps most frequently recognized for playing The Tick's sidekick Arthur, in Amazon Prime's live-action The Tick series.
Liam Cunningham as Duncan/Man-At-Arms
Renowned for his skills as both a soldier and an inventor, Duncan has served as a Man-At-Arms in the Royal Court of Eternos for many years. While he is justly hailed for having invented a number of impressive devices that are almost indistinguishable from magic, Duncan's proudest accomplishment is training Teela to surpass him in all things. He is also one of the few who knows of Prince Adam's double-life as He-Man. Man-At-Arms is voiced by Liam Cunningham, who is best known to fantasy fans for playing Davos Seaworth in Game of Thrones.
Susan Eisenberg as The Sorceress
The guardian of Castle Grayskull, the Sorceress is one of the most powerful magicians in Eternia, though her power is largely limited outside the castle's walls. It was the Sorceress who entrusted Prince Adam with the Sword of Power that transforms him into He-Man. The Sorceress is voiced by Susan Eisenberg, who previously played Wonder Woman in the DC Animated Universe and the Injustice series of games.
Justin Long as Roboto
The mechanical warrior Roboto was built by Duncan as a creative exercise, but the two came to regard one another as family. Roboto addresses Duncan as "Father," despite not being entirely certain he is capable of experiencing true emotions, such as love. Despite this, he honors Man-At-Arms for giving him life and strives to prove himself as a great inventor, though he can also hold his own in a fight if needed. Roboto is voiced by Justin Long, who is still fondly remembered for his appearances in classic comedies like Dodgeball and Galaxy Quest. He's done more voice work in recent years and currently voices multiple roles in the animated sitcom F is For Family.
Related: Are Netflix's Masters Of The Universe And She-Ra Shows In The Same Universe?
Mark Hamill as Skeletor
Wielder of the Havoc Staff, Skeletor is widely known as the Lord of Destruction and the most evil being in Eternia. A powerful sorcerer and a formidable fighter, Skeletor seeks the ancient lore and magical power contained within Castle Grayskull, but his plans for world domination have always been thwarted by the Sorceress, He-Man and their allies. He is voiced by Mark Hamill, who is well known in fan-circles for playing Luke Skywalker in Star Wars and widely recognized as the definitive voice of Joker in various DC Comics animated movies, television series, and video games.
Lena Headey as Evil-Lyn
A powerful sorceress, perhaps second only to Skeletor among the dark wizards of Eternia, Evil-Lyn has no loyalty to the Lord of Destruction, serving him only as it benefits her own sinister schemes. She is voiced by Lena Headey, whose voice will be instantly recognizable to fans of Game of Thrones as that of Cersei Lannister. She also recently appeared as Scarlet in the action movie Gunpowder Milkshake.
Henry Rollins as Tri-Klops
One of Skeletor's most devout henchmen, Tri-Klops is a cyborg whose unique helmet grants him laser-blasts and various vision-based powers. He is voiced by actor/singer Henry Rollins, who played AJ Weston in Sons of Anarchy and Zaheer in The Legend of Korra.
Tony Todd as Scare Glow
Scare Glow was one of the last figures made for the Masters of the Universe toy line and never appeared in the original animated series. His role in Masters of the Universe: Revelation is as shrouded in mystery as the character himself, who was a ghostly being in Skeletor's service who had the power to strike terror into the hearts of even the heartiest of heroes. He's voiced by Tony Todd, who previously voiced the New God Darkseid in several DC Comics animated movies, but is best known for playing the title role in the Candyman horror franchise and appearing in films like The Rock.
Related: Is the Live-Action Masters of the Universe Movie Still Happening?
Supporting Cast and Characters
Diedrich Bader as King Randor and Trap Jaw: Fondly remembered for playing Batman in both The Brave and The Bold and Harley Quinn, Diedrich Bader plays both the ruler of Eternos, King Randor, and Trap Jaw, Skeletor's iron-mouthed cyborg henchman.
Kevin Conroy as Merman: The sinister ruler of Eternia's oceans and occasional ally of Skeletor, Merman is voiced by Batman: The Animated Series voice actor Kevin Conroy, who is widely considered to be the definitive Batman in the same way many consider Mark Hamill the definitive Joker.
Adam Gifford as Vikor: Best known as Lane Potter in Longmire, Adam Gifford lends his voice to Vikor, one of the legendary warriors of Eternia's past.
Dennis Haysbert as Grayskull: The first King of Eternos, Grayskull is voiced by veteran actor Dennis Haysbert, who most recently played God in Lucifer but is fondly remembered for portraying President David Palmer in 24.
Phil LaMarr as He-Ro: A prolific voice-actor with over 400 professional credits, Phil LaMarr is also remembered for his role as Marvin in Pulp Fiction. LaMarr provides the voice of He-Ro; another one of the legendary heroes of Eternia's prehistoric era.
Jason Mewes as Stinkor: It wouldn't be a Kevin Smith production without a cameo from Jason Mewes. The actor who played Jay alongside Smith's Silent Bob plays the part of Skeletor's skunk-man sidekick Stinkor.
Alan Oppenheimer as Moss Man: A guardian of Eternia's forests comparable to DC Comics' Swamp Thing, Moss Man is voiced by Alan Oppenheimer, who voiced many characters for the original He-Man and the Masters of the Universe animated series, with Skeletor being the most notable.
Kevin Michael Richardson as Beast-Man: Skeletor's most savage sidekick, Beast-Man is voiced by legendary voice actor Kevin Michael Richardson, who is perhaps best remembered as the voices of Trigon in Teen Titans and Principal Lewis on American Dad!
Alicia Silverstone as Queen Marlena: The wife of King Randor and mother of Prince Adam is voiced by Alicia Silverstone, who first found fame playing Cher in Clueless. She can currently be seen in Netflix's The Babysitter's Club series as Kristy's mom.
Cree Summer as Priestess and Kuduk: One of the most active voice actors in the business, Cree Summers first found fame voicing Penny in Inspector Gadget, and went on to play over 300 roles afterward. She plays two parts in Masters of the Universe: Revelation; a priestess whom Teela aids and Kuduk, the first woman to become the Sorceress of Castle Grayskull.
Tiffany Smith as Andra: Andra is an engineer and a friend of Teela. While an original character unique to Masters of the Universe: Revelation, Andra is named in honor of an obscure character that was a childhood friend of Teela's in the short-lived 1986 Masters of the Universe comic published by Marcel Comics' Star imprint. She is voiced by Tiffany Smith, who played Meghan Markle in the movie Harry & Meghan: Becoming Royal.
Jay Tavare as Wundar: First breaking into film playing Vega in the Street Fighter movie, Jay Tavare lends his voice to Wundar, a legendary hero from Eternia's distant past.
More: Upcoming Nostalgic Animation Reboots On Netflix
The Flash: Every Source of Speed Powers Explained 
About The Author